Tyrone's Journey (WARNING CONTAINS GRAPHIC PHOTOS)
Tyrone's journey began long before Beth and Myself(Maria) rescued him on August 19th 2013. His story prior to that date is not completely known. What we do know is that some time during the summer of 2013 something happened to Ty and it set in motion a series of unexplained events. We had no idea the phenomenal passage we were about to embark upon.
On august 19th 2013 Tyrone was rescued by All Souls Connected and taken to the Vet. The Doctor believed Tyrone had Squamous cell carcinoma and sent us to a specialist. The specialist agreed with squamous Cell and said he had perhaps a few weeks to month to live and we took Tyrone home to give him hospice care. Tyrone had a very different idea from what the doctors told us and so our amazing journey began.
The collage of pictures will certainly give you a good idea of why Beth and I had made the decision on more than one occasion that the time had come to help Tyrone move onto the next phase of his existence, whatever life after death here consists of. Tyrone was very good at letting us know when he was not feeling well and there was one point in September that I was away and Beth had gotten a hold of me to tell me he was not doing well. I of course told her that I did not want him to suffer so if she felt she needed to have the Veterinarian come and help him transition, then she should do so. Even though I wanted so badly to be there for both of them. She said she would monitor him through the night and give him pain meds as needed and make a decision in the morning. In the morning she texted me that he seemed to be over the worst and was again eating and no longer hiding and was asking for attention. This was the cycle that we went through over and over again between the end of August and the beginning of November.
There was just something, we can't explain it, but something telling us he is NOT ready to leave. In November we started noticing a difference in Ty and that he would react to the movement of your hand near the injured area. As if he were seeing it. We did not know what to make of this. One Sunday morning in early November, Luann and her husband had come over so Luann could do a reiki treatment on Ty. At one point she looked at me and said "his eye is gone, right?" My response was, that is what both doctors told us. She said I feel like I see movement in the area and I stated that we also thought we had seen movement. Her husband suggested that perhaps it was natures way of fooling predators into believing he had two eyes. In other words, a mode of adaptation for an injured animal to survive. This actually made some sense, similar things are seen in the animal world often.
However two weeks later Beth frantically texted me and sent a picture(you will see it in the collage) and said I think Ty's eye is there. The area where the wound was had opened slightly and the eye was beginning to reemerge. Now keep in mind that up until this point Tyrone had received no medical intervention other than Beth cleaning the necrosing tissue away as it died off and occasional pain medication because we were told he was 100% terminal and that there was nothing we could do to treat him. He was simply receiving frequent Reiki treatments and a lot of love and positivity from us and his Facebook family. When the eye area opened up we immediately called his specialist and took him back in. She stated that yes it was in fact his eye, but that it was not viable, simply a "dead" eye and that he still had the same diagnosis of cancer but since he had "lasted" this long maybe we could try some chemotherapy. We needed to do a culture on the area around the eye because it had a lot of pus and if there was infection we could not begin chemo until it had cleared.
The tests came back that he did in fact have two separate bacterias on the eye. We then decided we wanted to consult with his general Vet because we did not feel the eye was dead and to begin to treat the infections. When Beth took him to that appointment, His Veterinarian was absolutely stunned and said when she got the report from the specialist that Tyrone was still alive AND that his eye was there her jaw dropped. She then did light tests on the eye, and as we suspected, he was seeing with the eye. We began treating him with extremely potent antibiotic shots and ointment and things began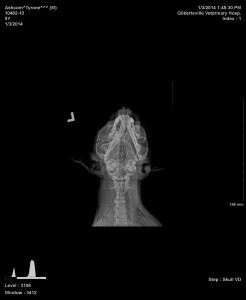 improving even more. She then biopsied the abnormal tissue while doing surgery to detach the third eyelid from his eye. The results of the biopsy were negative for cancer. It showed only inflamed tissue. His X-rays(see photo) also looked normal and she suggested we keep the course of treatment with the antibiotic shots and that we should not proceed with any Chemotherapy treatment. That brings us to where Ty is today and the fact that we questioned both Doctors about the Herpes virus and both said he did not have it, but his new eye specialist believes that he does and we will pursue treatment to hopefully help clear that virus, if his blood tests come back ok for him to receive the treatment. Tyrone is also FIV positive but his specialist and Beth and i all agree that this is not something to be overly concerned with. His specialist said he rarely sees FIV cause issues that are life threatening and he owns several positive cats himself.
Thank you all for loving Ty as much as we do and being with us along the way. We have learned so many things from this little blond ginger and I don't think he is done teaching us yet. And now for the collage. Click on the X-ray or photo collage to enlarge. I have also included a slideshow at the end of this post with these pictures in it if you would like a closer view.. click on the dots to move to the next slide.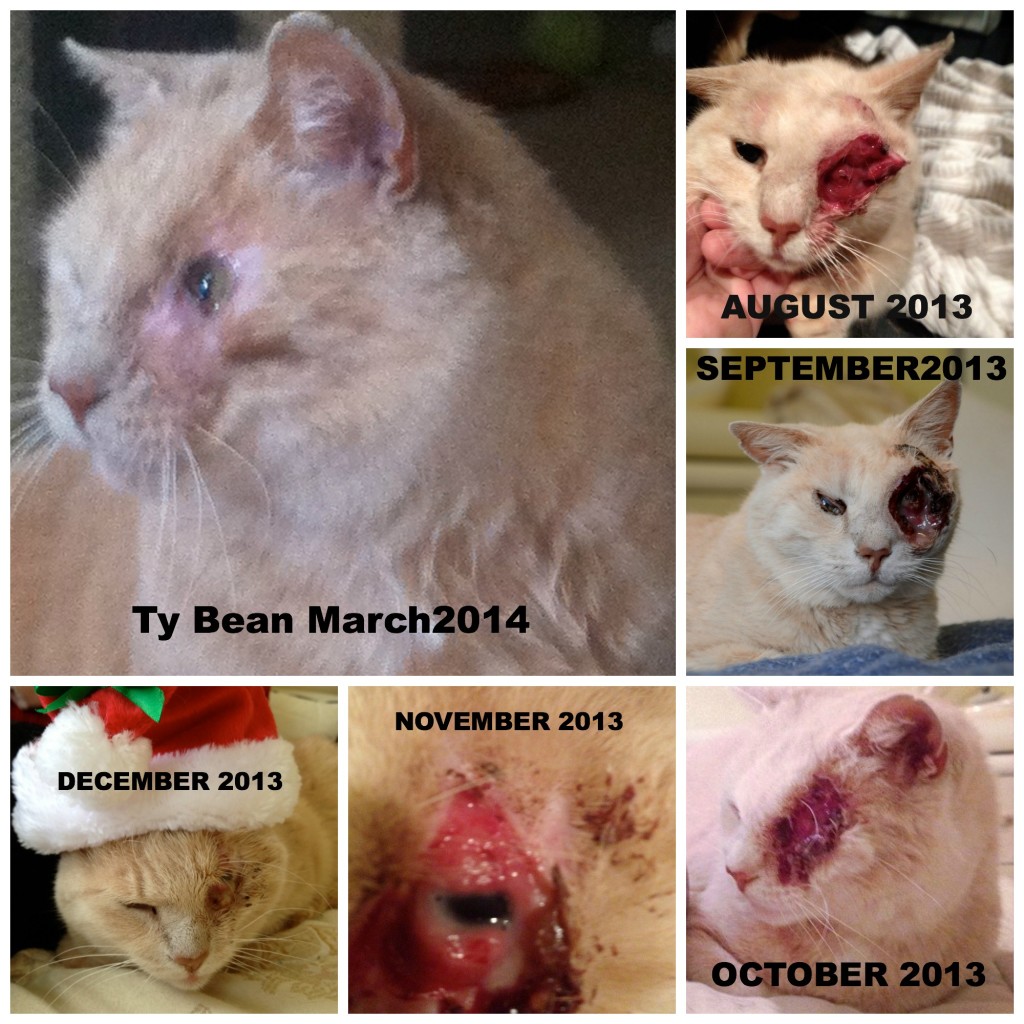 The top photo is the photo taken the day he was rescued in August
The second photo is in September. At this point the tissue was necrosing rapidly and I must tell you that the smell was  absolutely nauseating and encompassed the entire room, but Beth continued to sleep with Ty at night for his comfort and he would actually rub the area on us which was really quite gross, but we didn't let him know that 🙂
The third photo was at then end of October and you can see the area was beginning to fill in, which we believed at the time was the cancer growing internally.
The fourth picture is the end of November moments after the area opened up and revealed his eye.
The fifth picture is of course, December.
and the large picture is our Bean NOW!
You can follow tyrone on his Facebook page Tenderness for Tyrone(his page is silly and fun) or our All Souls Connected page which is Tyrones non profit and if you would like to donate to ALL Souls Connected to help us continue our mission you can donate directly through this site